Men Collection Set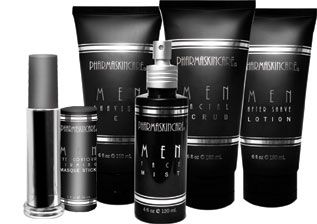 WHAT IT IS:
Cosmaceutically, the most advanced system for mens skin. A unique and complete facial care system consisting of: Men Facial Scrub, Men Shaving Gel, Men After Shave Lotion, and Men Face Mist to keep skin looking young, fresh, and rejuvenated. Made from all natural preservatives, botanicals, and oils.
WHAT IT DOES:
The group of products together work to exfoliate, purify, and PH balance the skin while blanketing it with beneficial nutrients to help fight environmental stress. The Men Collection Set is geared to correct, prevent, and protect mens skin in a manner that no other product has successfully done.
FEATURES AND BENEFITS:
Pharmaskincare Men Facial Scrub treats oily, combination & problem skin. Exfoliating and cleansing out impurities while fortifying & toning.
Pharmaskincare Men Shaving Gel is fortified with soothing botanical extracts that provide a moisture barrier that protects the skin from irritation and razor bumps.
Pharmaskincare Men After Shave Lotion is formulated to provide and restore moisture to the skin to prevent dryness, irritation and razor burn.
Pharmaskincare Men Face Mist provides an immediate clean and cool feeling made possible by an outstanding combination of botanical extracts.
USAGE:
Follow these steps: Begin with exfoliating with Men Facial Scrub; prepare for shaving with Men Shaving Gel, apply on wet skin; calm the skin by spraying Men Face Mist; and complete regimen and moisturize skin with Men After Shave Lotion.
To Order: View here to order Men Collection Set