Dry Itchy Scalp Causes and Remedies
Are you suffering with a dry, itchy scalp condition? If you are suffering with any of the following conditions then you may have a dandruff problem:

Dry flaking on your scalp that ends up on your shoulders.


Persistent itching that doesn't seem to stop.


Rash like symptoms.
There are millions of people suffering from this condition. Dandruff is not only the most misunderstood problem, but it is also the chief complaint of many people and their hair. Dandruff can be caused from toxins or by-products that have built up in your hair. This comes from additives to many of the shampoos that are readily available in the supermarkets that give an artificial shine. Silicones are the ingredients in shampoos that give your hair artificial shine and unnecessary chemical buildup.
If you are getting bumps and sores on your scalp, this is an indication that you have aggravated sensitivity. Your scalps natural balance has been disturbed and this results in dandruff conditions otherwise known Seborrhea Dermatitis. This flaking and itching is often uncomfortable and at times can be embarrassing.
When this occurs, most everyone will run straight to the store and purchase an anti-dandruff shampoo. This will help for a while, however the problem generally returns. When it does it can sometimes add additional problems. These shampoos are designed to target and mask the problem, but not to treat it.
These shampoos do have ingredients that help to stop the flaking and kill bacteria but they also contain some of the ingredients that were responsible for creating the condition to begin with.
Scientific evidence has been shown that shampoos contain a number of hidden ingredients that our bodies become sensitized to. Additives that were once thought to be helpful have now been proven otherwise. Some of these additives can create problems and stop the scalps natural process of shedding cells. Some of the ingredients in these shampoos are even used in degreasers! Some of them are also used in some scientific testing to create rashes to test new anti-rash drugs and anti itching drugs.
Stripping our hair of these natural oils by these shampoo ingredients combined with a diet high in sugar will encourage the growth of micro-organisms associated with the onset of dandruff. Adding to this cocktail of chemicals could also contribute and make the situation worse by aggravating symptoms.
If you are having scalp issues there are many products available that may be of assistance for you!
Graham Webb Back to Basics Ginger Scalp Therapy Shampoo is a dual-phase shampoo that treats dry and itchy scalps. This product gently cleanses hair and removes product build-up from your hair. This product was manufactured for dry, overstressed hair types in need of structure.
Graham Webb Back to Basics Ginger Scalp Therapy Shampoo: Graham Webb Back to Basics Ginger Scalp Therapy Shampoo
Bain De Terre makes a product entitled Bain De Terre Sugar and Fig Scalp Massage Scrub. An interesting idea of using natural sugars to gently exfoliate hair impurities, dead skin cells and product build up from both your scalp and hair. This is an easy dissolving product that allows for easy rinsing. It is safe for color treated hair and each box contains 4 tubes/4 treatments.
Bain De Terre Sugar and Fig Scalp Massage Scrub: Bain De Terre Sugar and Fig Scalp Massage Scrub
If you are looking for a shampoo and conditioner that will do the job, I would suggest to take a look at the Graham Webb Ice Cap Revitalizing Conditioner and Shampoo.
Graham Webb Ice Cap Revitalizing Shampoo is the perfect daily shampoo for all hair types, including color treated hair! This shampoo gently cleanses hair while breathing life back into your scalp. With tingling, soothing action this shampoo enhances blood flow to your scalp. This cleanser is enhanced with a refreshing and invigorating icy menthol tone while leaving hair soft and manageable.
Graham Webb Ice Cap Revitalizing Shampoo: Graham Webb Ice Cap Revitalizing Shampoo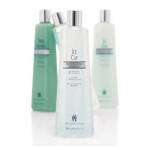 Graham Webb Ice Cap Revitalizing Conditioner is an excellent daily detangler for color treated hair and all hair textures! This detangling conditioner is a great product to use when you want a weightless, aerated feel to your hair. This product also contains menthol for added scalp sensation and thermacore complexes for heat activated conditioning!
Graham Webb Ice Cap Revitalizing Conditioner: Graham Webb Ice Cap Revitalizing Conditioner
If you feel that you can not use a shampoo that is sold from marketplaces and stores you can eliminate your scalp problems with inexpensive home treatments. There are many home remedies which can be found by searching online! Many of these home remedies contain natural alternatives to the expensive shampoos in which you may not feel comfortable purchasing. Often home remedies can be more powerful and better for you because they do not contain toxins and will not damage your scalp further.
You can use oils such as lavender and rosemary. These are some of the best and can be used for treating hair loss, itchy scalp and dandruff scalp rashes. You can add these directly to your shampoo to create a lower cost dandruff shampoo right at home.
You can find many dry itchy scalp remedies right in your own kitchen, or even in the garden. Learning how to properly blend them will have you making your own dandruff treatments in no time. It can be simple and fun to have beautiful healthy hair again and an itch free scalp.
Stuff4Beauty odd fact: People believe that if you shave a baby's hair, it will grow back thicker and more coarse. This is a common misconception. A child's hair changes and evolves over time. You can not alter the growth or the texture of your baby's hair by cutting it. What an odd misconception!
Stuff4Beauty Weekly Special!
A great way to save BIG! Any order over $75.00, shipping to a physical address to any of the USA 48 states will receive an automatic $3.00 off your entire order and still get free shipping!
Check out Stuff4Beauty's Weekly Specials!
I hope everyone's having a fantastic week!
Alayna
Stuff4Beauty.com