Newly added to our always growing website is the KIS product line. KIS stands for kreative, innovative, and smart. This line of hair care and styling systems focuses on strengthening your hair from the inside out. When this line was made, the health of your hair was in mind. KIS gives your hair essential omega fats, proteins, and the very powerful anti-oxident goji berry.
Are you looking for sassy, sexy, sophisticated looking hair? Then look no further because KIS should have everything you need from shampoo and conditioner to styling products.

KIS Shampoo – Sulfate-free formula gently cleanses and repairs hair. Restores balance and strength from witin the hair shaft.



KIS Shampoo

KIS Calming Conditioner – A good de-stresser for hair and mood. Creates a healthy balance of moisture and strength from within the hair.



KIS Calming Conditioner

KIS Root Lifter – Provides volume for the area of hair that needs it most, leaving your hair with ultimate volume and long lasting hold.



KIS Root Lifter

KIS Shine Serum – Provides hair with instant glass-like shine. Can be used as a style finisher.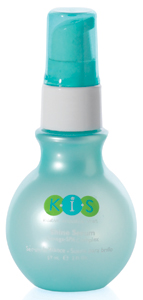 KIS Shine Serum
Due to popular demand, our $5 off orders over $100 and free shipping (available to the 48 U.S states) weekly special is going to be staying with us one more week. So you have don't miss your chance to stock up on all your favorite products. A deal like this is hard to find!
Until next time,
Cassie at Stuff4Beauty