Humidity Proofing your Hair!
When the weather starts to warm up and the seasons rain begins, you start to notice that your hair isn't quite keeping up with the patterns of the weather.
Humidity can take a huge toll on your hair and your hair style. It can cause your hair to fall flat, become frizzy, or even to feel dry. When the humidity increases, your hair swells and actually grows longer.
There are many preventative measures you can take to protect your hair from humidity.
It is said that you should use a shampoo and conditioner made for fine hair when the humidity is high and you find your hair/hair style falling flat. The reason for this is because shampoo and conditioners for fine hair are typically made to keep the hair light and not weighed down. This can help counter-act the effect of humidity. Joico makes a shampoo and conditioner that go great with this idea. The shampoo is called, Joico Silk Result Shampoo and the conditioner is called Joico Silk Result Conditioner. These products were manufactured with the idea of making hair soft and smooth while also not adding weight to the hair.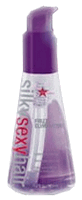 When your hair becomes frizzy in high humidity, a styling product that contains silicone and small amounts of alcohol will be most beneficial. Pureology makes a product entitled Pureology Spray Gel. This is a great styling aid that is safe for color treated hair, is alcohol free, and is silicone based. This is a spray gel that will provide you with a flexible hold while adding weightless body, control, and shine. Another really universal product is Silky Sexy Hair Frizz Eliminator. This product is incredibly versatile. Not only is it a dry silicone serum, but it is a greaseless formula. This product is excellent to fight the effects of humidity and frizz. But that's not all! While this product is great for keeping your hair smooth, you can also use it with a flat iron, or even on your skin for shine and smoothness!
Another good idea for frizz control is a leave-in cream that will coat your hair from the roots to the ends. By allowing your hair to absorb a moisturized cream, your hair will be smoother. This also protects your hair from drying out, which can cause your hair to become frizzy. A great example of a leave-in cream you could use is the Redken Smooth Down Detangling Cream. This is a great detangling cream that will help to smooth down, detangle, and control frizz. This product leaves you with a smooth, shiny finish!
Keep in mind: Avoid products with alcohol and formaldehyde because they can dry out your hair.
If you style your hair with heated products on a daily basis, try using steam styling tools. Not only do they dry your hair out less, but on those wretched humid days, steam styling tools are products you can use that will benefit you in your fight against humidity.
The number one thing to remember: The secret to protecting your hair from humidity is to create a barrier between your hair and the humidity. Using serums, creams, and sprays can help you do this!
Hope everyone's enjoying their week!
Alayna
Stuff4Beauty.com