About the One n Only Argan Oil Treatment? This incredible product will provide your hair with just about everything it needs to be healthy!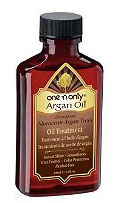 This treatment will add shine, control frizz, smooth, and protect color! What more could you need? It is quickly absorbed into hair and won't leave any trace. The One n Only Argan Oil Treatment will also provide hair with protection from chemical damage and environmental damage.
Us here at stuff4beauty would love to be the ones to introduce and provide you with this fantastic product. The best news? It is completely affordable!! We strongly believe you shouldn't have to pay large amounts of money to get healthy hair! Try it today!! You won't regret it!
Sincerely,
The Caring Staff at Stuff4beauty.