We Were Asked: I have short, coarse, and thick hair. I liked head games messed-up and I am trying to find a similar product. I can't seem to find one that I can work through my hair easily, manipulate my hair, have it stay that way and be shiny. Aveda's self control styling stick-too sticky, redken's rough paste is to hard to manipulate & does not add shine, kiwi piecing paste & bed head manipulator were to gooey, sebatian molding mud does not last or leave a shine.
We Answered: It sounds like you have gone through a world of products and none of them are right for you. Here at Stuff4Beauty, we do have other options! I have three suggestions for you to consider. However, if you are looking for a place to purchase the Head Games Messed-Up Madness, we have it in stock! For the amount of money that you are spending on an attempt to find new products, you can still have what you're accustomed to.
Head Games Messed-Up Madness
We also have a few more product ideas to offer you!
Pureology makes a product called Nano Wax. This product helps to define your style with a moldable, pliable compound. This is a hybrid wax that consists of 5 different types of waxes. Most importantly this product has a natural orange peel wax that has resin polymers in it. This helps to create superior styling and shaping abilities with your hair. This product also has thermal and color protection. For instance, if your hair were colored this would protect it, not damage it. In the end, this product should leave your hair with a perfectly moveable, flexible shape with texture and control.
Pureology Nano Wax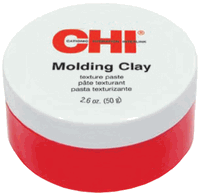 Chi Molding Clay Texture Paste is another great product. This texture paste takes your molding abilities to another level, without leaving your hair sticky! This product adds sensational body and volume, while also enhancing the texture of your hair. In the end, your hair should have movement and shape with all your styles. Best of all, Chi's Texture Paste will finish off your style with a vibrant shine!
Chi Molding Clay Texture Paste
Lastly, we bring to you another product from the Chi line. The Chi Twisted Fabric Finishing Paste! This product offers benefits all around. With a weightless formula to sculpt, mold, and hold your hair, this finishing paste may be just what you need. The finishing paste has vitamins and emollients to moisturize your hair, yet has no oily build-up on your hair or scalp. To top it off, this product will give you a lasting shine throughout your day.
Chi Twisted Fabric Finishing Paste
Do you have a beauty question you need an answer to? Do you know what products are suited for your hair?
We can help you too!
Have a happy hump day, everyone!
Alayna
Stuff4Beauty