Do Vitamins Really Help Your Hair Grow?
One thing those suffering from hair loss overlook is nutrition. Everyone should supplement their daily intake with vitamins and minerals. The diet of your average person is usually to grab what they can while running out the door. This can often lack the nutrition, vitamins, and minerals that we as people need to remain healthy.
Even people who do watch their intake may not be getting enough of what the body needs. Proper nutrition is very important for healthy hair growth. It's not only your body that needs a variety of nutrients. Your hair does too, and those nutrients are are essential to good hair growth and health. This brings up the question: Do vitamins really work? Well, lets take a deeper look into the answer of that question.
The first thing you need to know about establishing a new vitamin regi, is that consistency is important. Patience in this case, is very important because it could take as many as 3 months before you will substantially see any results from this new regimen. You should check with your doctor before you start a vitamin program.
Please note that these vitamins are not listed in an order of importance!
Vitamin A
This is an antioxidant and will help to produce healthy sebum in the scalp. Some sources are:
A. Fish liver oil
B. Meat
C. Milk
D. Cheese
E. Eggs
F. Spinach
G. Carrots apricots
H. Peaches
I. Recommended daily dose is 5,000 IU
Vitamin C This is another antioxidant that helps to maintain healthy skin and hair. Some sources are:
A. Citrus fruits
B. Strawberries
C. Pineapples
D. Tomatoes
E. Green peppers
F. Potatoes
G. Dark green vegetables
H. Recommended daily dose is 60 mg
Vitamin E This is yet another antioxidant that helps to enhance scalp circulation. Some sources are:
A. Cold pressed vegetable oils
B. Wheat germ oil
C. Soybeans
D. Nuts
E. Dried beans
F. Leafy green vegetables
G. Recommended daily dose is up to 400 IU
H. BE CAREFUL. This can raise blood pressure and reduce blood clotting. People who take blood pressure medications and use anti-coagulant drugs should check with their doctor before using a supplement!
Pantothenic Acid Otherwise known as Vitamin B5. Prevents hair loss and graying of the hair. Some sources are:
A. Whole grain cereals
B. Brewers yeast
C. Organ meats
D. Egg yolks
E. Recommended daily dose is 4-7 mg
Vitamin B6 This vitamin prevents hair loss and helps to create melanin, which is what gives your hair its color. Some sources are:
A. Brewers yeast
B. Liver
C. Whole grain cereals
D. Vegetables
E. Organ meats
F. Egg yolk
G. Recommended daily dose is 1.6 mg
Biotin This helps to produce keratin and may help to prevent hair graying and loss. Some sources are:
A. Brewers yeast
B. Whole grains
C. Egg yolks
D. Liver
E. Rice
F. Milk
G. Recommended daily dose is 150-300 mcg
Inositol This keeps hair follicles healthy at the cellular level. Some sources are:
A. Brewers yeast
B. Liver
C. Citrus fruits
D. Recommended daily dose is up to 600 mg
Niacin Also known as Vitamin B3 helps to promote scalp circulation. Some source are:
A. Brewers yeast
B. Wheat germ
C. Fish
D. Chicken
E. Turkey
F. Meat
G. Recommended daily dose is 15 mg
Nioxin has a recharging complex that is a vitamin supplement taken daily to improve the health of your hair. Included below is information on Nioxin Recharging Complex and its ingredients.
Nioxin's Recharging Complex is one of the most popular items on the market here at Stuff4Beauty. With thousands of repeat customers purchasing this product, it's proven to work. So what makes Nioxin's Recharging complex so useful for all these people?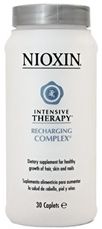 Nioxin's Recharging Complex is a dietary supplement that can be taken on a daily basis with your other vitamins. This supplement is infused with Co-zyme 10 and a blend of vitamins, herbs, and amino acids for the encouraged hair growth of your hair. This product also contains niacinamide, a factor in the maintenance of the good health for hair, skin, and nails! Nioxin's Recharging Complex is also rich in marine concentrates for balanced nutrition. Nutrients are derived from Wild Yams and bioavailability of the essential nutrients. It is safe for both men and women and helps to promote youthful looking skin, stronger nails and may extend the lifecycle of your hair. The synergy of the Recharging Complex and the topical application of Nioxin formulations provides the most complete, all natural approach to fuller, thicker, healthier looking hair.
What ingredients does Nioxin's Recharging Complex contain?
Vitamin A (as Acetate), Vitamin C (as Ascorbic Acid), Vitamin D (as Ergocalciferol), Thiamine (Vitamin B1), Niacin (as Niacinamide), Vitamin B6 (as Pyridoxine Hydrochloride), Folic Acid, Vitamin B12 (as Cyanocobalmin), Biotin, Panthothenic Acid (as D-Calcium Pantothenate), Zinc, Calcium Carbonate, Magnesium Stearate, Microcyrstalline Cellulose, DiCalcium Phosphate, Titanium Dioxide (color), FD&C Lake Yellow #6, FD&C Lake Blue #1, FD&C Lake Red #40
Proprietary Blend that contains: Wild Yam, Sarsparilla, Stinging Nettle, Oat, Phgeum, Saw Palmetto, Bladderwrack, Coenzyme Q6-10, Tocotrienols, Phosphatides.
Directions: Take 1 tablet per day. (Unless otherwise authorized by your physician).
There are other, simple measures that you can take that are also helpful. A regimen consisting of an adult complete daily vitamin will take care of most of what you need. For more information on what vitamins and minerals you should be consuming, contact your physician for further consultation.
Now, back to the question posed earlier. Do vitamins really help your hair grow? Yes, in the sense of the question, they do. They do not, however, help your hair to grow faster, as many people believe. Getting your recommended amount of vitamins and nutrients a day can make your hair stronger, reduce dandruff, and improve the shine of your hair. Taking vitamin supplements with your diet, along with other suggested methods of caring for your hair, will work together in helping you to maintain strong, beautiful hair.
Stuff4Beauty has Nioxin's Recharging Complex! If you would like to purchase Nioxin's Recharging Complex, please visit our Nioxin section: Buy Nioxin Recharging Complex!
Have a wonderful, sun-shining week everyone!
Alayna
Stuff4Beauty.com