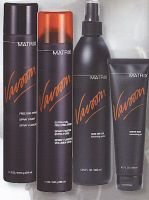 If you like Matrix Vavoom hair products we are happy to announce that Matrix has changed a few things in this product line. Matrix has introduced new Vavoom volumizing collection .
In this new collection you will find Matrix Vavoom Volumizing Foam Height of Glam Get instant big hair glamour with lasting full bodied hold. Matrix Vavoom Smooth Me Smoothing Gel comes in an 8.5oz tube. Get instant big hair glamour with lasting full-bodied hold. Simply sexy. Vavoom Smoothing Gel smoothes out waves, curls and frizz. Adds sheer body without the weight. Helps seal spit ends. Matrix Vavoom Volumizing Gel is new. Vavoom Volumizing Gel is an ultra-light, sheer gel with a medium hold. Leaves hair clean to the touch. Humidity resistant. Vavoom Freezing Spray also has new packaging and an added addition! Still offering the regular Vavoom Freezing spray, you will also have a choice of the Vavoom Extra Full Freezing Spray. This new spray is super fast drying, has a clean feeling & adds shine. Also gives your hair extra shape & support and offers UV protection!
Of course as with all products, some get added and some get discontinued. We all know it is very frustrating, but there is nothing that can be done about it. The best way to cope is to give some of the new products a try and you may find that you will actually find something you like better than the discontinued product you were used to using.
A little bad news, Vavoom Styling Shampoo, Vavoom Styling Conditioner, Vavoom Beam Shine Gloss, Vavoom Morph Cream Wax, and the liter size of the Vavoom Forming Gel has been discontinued.
Stuff4Beauty always seems to have some good news to go with the bad news. In this case, the good news is that luckily our resources allowed us to carry an ample supply of these discontinued products and you can still order them while supplies last! Get your new (and old) Matrix Vavoom hair products from us today and get free shipping for USA orders over $50!