Idrotherapy Wrinkle Reducer is the next big thing! The beauty secret of Argan oil lies in its unique composition. The amazing Argan oil is rich in natural antioxidants, essential fatty acids, carotenoids, ferulic acid, sterols, polyphenols. It also contains remarkably high levels of vitamin E and Squalene.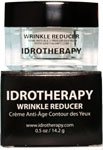 Blending Renovage with Matrixyl 3000 allows users to actually fill wrinkles, increasing skin thickness by as much as 9% in four months or less. Idrotherapy's formulation includes peptide which belong to the family of matrikines (peptidic fragments, messengers of the natural process of tissue repair), is designed to replace retinol and its esters as an efficient anti-wrinkle solution. Acting without any toxicological dangers. Idrotherapy is
STRONGER
than Retinol.
The other key to reducing and erasing wrinkles is prolonging cell and tissue life span, improving the overall cell metabolism. This is the real science behind Idrotherapy, working at the orgin of metabolism, it exerts a protective and repairing effect on both skin function and structure, in addition to improving moisture by up to 83%. How can your skin NOT look younger? Idrotherapy will protect, repair and hydrate your skin at the cellular level. When its results that are sought, those in the know, know to use Idrotherapy to look younger and stay that way. Now, Idrotherapy is available to the masses.
After less than 45 days of use Idrotherapy has produced astounding results. The aggressive blend of Renovage and Matrixly found in Idrotherapy has drastically diminished all signs of aging.
Benefits of Using Idrotherapy
Appear More Youthful
Reduce Wrinkles
Reduce Fine Lines
Reduce The Signs Of Aging
Combat Future Signs Of Aging
Maintain The Youthful Effects Realized
Feel More Confident About the Way You Look
Directions:
Apply a small amount to finger and apply gently to desired area. avoid direct contact with eyes. For best results apply each morning and evening.
The Stuff4Beauty Outlet store has a wonderful selection of skin and hair care products. We work hard to keep you and your hair happy. Idrotherapy would be an amazing addition to anyone's daily routine. Try some today!
Sincerely,
The Caring Staff at Stuff4Beauty