Stuff4Beauty has recently added more of the "Colour Stylist" to the Pureology line. We are excited to tell you about the new products!

First on our list of added products is Pureology Colour Stylist Fortifying Heat Spray. This product is a great protective primer. It will protect hair from temperatures up to 400 degrees!

Next on our list is, Pureology Colour Stylist Silk Bodifier, which is the best way to add volume and fullness to hair. It will provide hair with a medium hold, and will add shine and softness.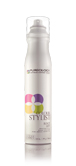 Pureology Colour Stylist Root Lift is another fantastic product that we have recently added. This product is humidity resistant and is perfect for colour treated hair. It will do exactly what it says, add volume.


Last but not lease, we have Pureology Colour Stylist Radiance Amplifier, this product will enhance shine and colour. It is great for controlling frizz and providing a protective barrier from the environment and all it's unwanted damages.
Stuff4Beauty adds new products all the time, sometimes even as often as every week! Manufacturers are always coming out with something new and improved! So please, don't wait for us to write a blog about our new products. Seeing all our New Additions at once is very simple. We provide a tab in the hair care section that will take you straight to all our new products.
Don't forget, you can always Request Products!
Sincerely,
The Caring Staff at Stuff4Beaty