Boost your hair at the roots with the new Kenra Root Lifting Spray
Hold Index: 13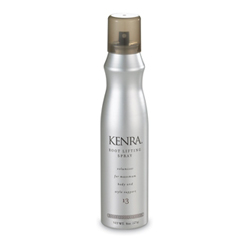 Kenra Root Lifting Spray – 13 is a volumizer that gives maximum body and style support.

Creates ultimate lift and long-lasting style support.

Provides flexible fullness without weight or stiffness.

Boosts hair at the roots or volumizes entire style.
Start with Kenra Volumizing Shampoo and Kenra Volumizing Conditioner. To damp hair, apply Kenra Thickening Spray for body. To provide lift and fullness from the root area, apply Root Volumizing Serum and Root Lifting Spray to damp hair, massage product on scalp area, lift and blow dry hair away from scalp. . To lift, lock and hold your hairstyle, apply Kenra Volume Spray – 25, a super hold finishing spray.
About Kenra:
Kenra, LLC, is an Indianapolis-based hair care manufacturer was founded in 1929. Thirty years later, Henry J. Meyers, a barber/ stylist purchased the company. Since that time it has remained under family management with an ongoing commitment to creating classic, quality, hair care products for the professional market. Kenra products enhance individual styles and dramatically improve the health and appearance of hair. As times change, stylists and their clients demand specific products to achieve diverse and fashion-driven hairstyles. Kenra's chemists respond by consulting salon stylists in the research and development of innovative, performance-based shampoos, conditioners, styling products and finishing sprays uniquely formulated with pharmaceutical-grade ingredients. In-house manufacturing and stringent quality control measures insure consistent products that meet the highest standards each and every time. Kenra is devoted to the professional salon industry; products are only available in salons. Consumer marketing, a regional sales team, customer service and an education/partnership program called Global Salons allow for personalized communication with salons and support for their business needs. As a result of such efforts, Kenra is recognized as one of the top five growing brands in the salon industry, according to a 1999 research study.