Spring is here and summer is approaching real soon! Most of us feel good after getting our hair done at the local beauty shop. Don't you agree? How many of us long for a change for the summer? Coloring your hair is a great pick me up after a long drab winter. Coloring your hair can be exciting and also scary at the same time. Here are some tips if you are thinking about coloring your hair…………
Please click on this link and read!
Coloring Your Hair Do's and Dont's
If you are brave enough to color at home, please be careful! Remember ………. change can be fun!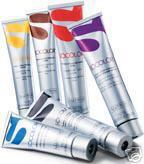 Matrix Socolor Hair Color
Just mix an even ratio of Socolor and Socolor developer and you are on your way to wonderfully colored hair. Radiant color. Rich shine. Consistently stunning results. Confidence comes naturally with SoColor! Socolor is America's leading tube creme permanent haircolor. With SoColor, there's no guessing; just exceptional color results. And with 81 shades, you can create every color imaginable from natural to vibrant, from subtle highlights to dramatic effects.

Save money; Do it at home!! You may mix and match for your own customized shade!! Delivers color clarity and exceptional grey coverage with advanced dyes.

Offers salon economy one 3 oz. tube contains two average retouch applications.

Maximizes shine and silkiness with the rich Alpha Honey Complex.
SoColor Tonal Series
COOLS Beautiful cool colors that tone unwanted warmth.
WARMS Rich beige to golden tones deliver beautiful color results.
REDS Vibrant and longwearing reds from subtle to intense.
GREYS NATURALS 100% grey coverage straight out of the tube.
ULTRA LIGHT BLONDES Light, cool, pastel blondes created in a single step.
HI-TONES SERIES Dramatic lift and toning for dark bases, all in one step.