What can you find at Stuff4beauty?
Not only will you find all your favorite Discontinued Redken products, but you will also find all the new Redken hair products at fabulous discount prices!
Redken balances its solid past of science with inspiration from the industries best educators and a street sense of fashion that keep Redken on the cutting edge. Get great looking hair the Redken way. Their advanced professional hair products will ensure you live the New York lifestyle your every day.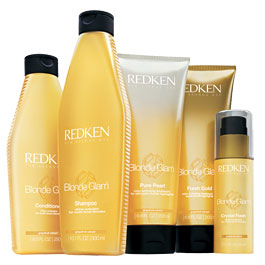 NEW Redken Blonde Glam!
Blonde Glam helps activate brilliance, clarify color and reinforce strength for multi-tonal blondes. Shimmering shine… All-out glamour! Introduce your blonde to its must-have accessory! NEW Blonde Glam is specifically formulated for natural or color-treated multi-tonal blondes and highlights. Through Redken's exclusive Interbond Conditioning System and a multi-faceted Crystal Shine Complex, it helps activate brilliance, clarify color and reinforce strength. Blonde hair is brightened and empowered with sparkling, dimensional shine.
Hooked on Redken Shades EQ?
You will find it at Stuff4beauty because we specialize in discontinued and hard to find hair products. We are constantly working to keep your favorite products in stock! If you do not see what you are looking for, you can now request It!
If you have a dry or flaky scalp it could be for a variety of reasons. Changes in weather climates can affect scalp moisture. Winter produces a dry climate in houses and the cold air outside makes skin chapped. Medications can also cause dry scalps. It is very important to correct dry/flaky scalps as sebum build up can clog hair follicles which could lead to early hair loss. Many "store brand" dandruff shampoos are very abrasive on the hair and can damage perms or colors. Try Redken Dandruff Control Shampoo Dandruff Control Shampoo is a specialized treatment that helps fight and control dandruff. Redken Solve Anti-Dandruff Shampoo is still available in our Discontinued Hair Products section of our website!
Stay Warm!
Stuff4Beauty