We Were Asked:
I have short, thick, hair that I wear spiky. I need to have it cut, colored and highlighted every 4 weeks as it grows VERY fast, and the gray around my hairline is noticeable. I use product to achieve that look, such as pomade, and detailing creme. You were wonderful in helping me recently when I needed some suggestions to protect my hair from sun and salt water damage. I plan to use those products, but have considered switching from the Aquage shampoo, conditioner (both for color treated hair) and styling products to something new. I would love some recommendations for color treated shampoos, conditioners, and styling products.
We Answered:
I'm glad to hear the product help about sun and salt water protection was beneficial for you! I have composed a few ideas for shampooing, conditioning, and styling your hair. I might want to add that if your Aquage products are working with your hair, it may not be necessary to change products. While experimenting with other products is great, sometimes it's better to stick with what you know, and what you know will work. With that being said, you can always switch back to your current hair-care products if the ones I recommend to you do not work, or you do not like them.
We'll begin with shampoo and conditioner.
Again I would like to recommend you some products from Pureology. All pureology products are safe for color-treated hair. Being that you seem to be a person who spends a lot of time in the sun and water, I've decided to go with Pureology's hydrating shampoo and conditioner. If you need more volume to your hair, Pureology has products called Pureology Volume Condition and Pureology Volume Shampoo.
Pureology section where you can find the Volume conditioner and shampoo: Pureology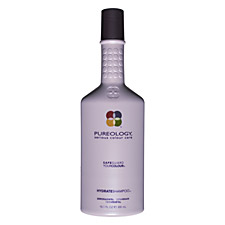 Now to the Pureology Hydrating shampoo and conditioner.
Pureology's Hydrate Shampoo is essential for color treated hair. There are no carcinogenic stripping sulfates, making this product excellent for your color treated hair. This is a high lather, quick rinse, mild formula. The lather itself is thick, and makes your hair feel like it's actually being cleansed. This formula preserves color and protects hair while it wraps your senses in an indulgent aromatherapy fragrance of rose, sadalwood, and green tea.
Pureology's Hydrate Shampoo
Pureology's Hydrate conditioner is also an essential for anyone with color treated hair. This product works from the inside out to keep the color fresh and your hair detangled. With renewed body, your hair is conditioned, color protected, and infused with an unbelievable shine. Nano emulsion molecules work to conditioner, strengthen, and reduce dry time of your hair.
Pureology's Hydrate Conditioner
If Pureology isn't what you're looking for, I also have another line of products for you to consider.
Wella Biotouch has a Nutri-Care Color Nutrition Shampoo. This is a basic cleansing shampoo for color treated hair. It has nourishing power and is a gentle cleanser. This product is said to improve styling product compatibility and to strengthen the hair structure from the inside out.
Wella Biotouch Nutri-Care Color Nutrition Shampoo
There is also a conditioner that goes with the Wella Biotouch Nutri-Care Color Nutrition Shampoo. It is called the Wella Biotouch Nutri-Care Color Nutrition Conditioner. This product is a gentle conditioner for color treated hair. This product protects color from fading and nourishes the roots of your hair. This product's goal is to maintain the intensity of your color for a longer period of time.
Wella Biotouch Nutri-Care Color Nutrition Conditioner
On to styling aids!

Alterna has a Hemp Seed Sculpting Putty that sounds right up your alley! This is an ultra creative styling tool that allows people to make an array of styles for their hair. Everything from sculpting, spiking, and texturizing is what this putty was made for.
Alterna Hemp Seed Sculpting Putty

Kenra has a Platinum Texturizing Taffy that is great for sculpting and separating hair. This is a pliable formula that creates superior memory and control for your hair. This is a great formula for flexible styling without a stiff, sticky finish. This product will leave your hair with a matte finish.
Directions: For texture, separation, and control: place desired amount in palms (smaller amounts for shorter hair), emulsify until product looks clear. Work through damp or dry hair for desired results!
Kenra's Platinum Texturizing Taffy
The last two products I will recommend to you are from Pureology. Pureology has a Nano Wax that utilizes its moldable, matte texture for amazing styling capability. This is a hybrid wax that combines five different waxes. These waxes include orange peel and resin polymers to create superior shapes with thermal and color protection. This product is perfectly pliable with flexibility for adding texture, separation and control.
Pureology Nano Wax
The last product I would like you to take a look at is the Pureology Spray Gel. This is an alcohol-free spray gel that provides you with a flexible hold for your color-treated hair. This is a versatile silicone formula that adds weightless body, control and shine for your hair.
Pureology Spray Gel
Do you have a beauty question you need an answer to? Do you know what products are suited for your hair?
We can help you too! Just fill out our product help form!
Product Help Form
Best of luck finding the products you want and need for your hair!
Stuff4Beauty
Alayna