Your Hair PH – What Does That Mean?
Because your hair is primarily protein, it tends to be very strong. Chemical processes, however can weaken your hair causing it to break off.
Your hair consists of two parts. The outmost layer is the cuticle and inside of that is the cortex. When your hair is damaged, the scales on the cuticle stand out and break off. This exposes the cortex which makes your hair feel harder. This can make it difficult to brush your hair.
The cortex is what gives your hair its strength and its elasticity. For this reason damaged hair does not return to its original shape and may even snap when it is stretched.
Melanin is on the inner section of your cortex. Melanin is what gives you your original hair color. That is why when coloring your hair, the hair colorant must penetrate the cortex in order to change the color of your hair.
As you may already know, pH is based on a scale of 0-14, and for illustration purposes, we'll point out that pure water has a PH of 7, while your hair and skin have a pH of 5. You should avoid both strong acids and strong alkalis, as they will both burn your scalp.
Most shampoos will have a pH balance of around 7. On the other hand, lemon juice and vinegar have a PH balance of 2 or 3 and baking soda has a pH of 8 or 9.
Now that we know all that, let's get into the hair products. Hair colorants are usually more alkaline. Alkaline means that the product has a pH level of 7 or over and it is a non-acidic product. The cuticle opens up when an alkaline substance is applied to it. This is what allows hair colorant to penetrate the cortex. There, it reacts with the hairs pigmentation to produce the color change.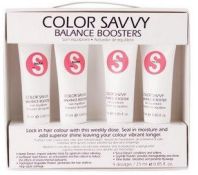 A lot of people believe that once you dye your hair, the PH level of your hair can not be helped. This is a misconception and there are products that you can use to help normalize the PH level of your hair without damaging your new hair color. One of those products is Tigi S-Factor Color Savvy Balance Boosters. Tigi S-Factor Color Savvy Balance Boosters were formulated to help boost hair moisture and normalize the pH level of hair. They are a daily conditioning regimen with an intense shock of nutrients to your hair. These conditioning boosters are great to lock in moisture, add shine, protect hair, and help nuetralize your hair pH level.
Another product is the Redken Chemistry System Protect Shot. This is an enhanced shot for chemically treated hair. It contains ceramide that helps strengthen and smooth the cuticle of chemically treated hair. It also contains antioxidants that protect color-treated hair. This system shot must be used with Redken's Chemistry System 3.5 pHix pHase. The pHix pHase is a pH sealant for chemically treated hair. It's used with the 'shot' to lock in the ingredients that the shot contain. The pHix pHase also helps to close the cuticle and balance the pH level of your hair. If your hair is distressed, you can also use the Redken Chemistry System Strength Shot with the Redken Chemistry System 3.5 pHix pHase. The strength shot helps condition and add moisture to hair that is out of control.
Permanent hair coloring will have a PH of around 9, or even an 8. With bleach, color molecules are oxidized, which in effect lightens the hair. Bleach has a PH of 8 or 9 as well, and when it is used more often than it should be, or if you mix it too strong, it can cause permanent damage when the scales of the cuticle layer break off. What happens is that the cuticle will no longer lie flat, and they stick out causing the hair to snag and tangle.
Another effect of this happening, is that your hair is no longer waterproof, and your cortex becomes exposed to washing factors, as well as environmental effects. It then dries out and loses its elasticity. Your hair can also become more susceptible to damage from styling tools.
If your hair is damaged from styling tools, you may notice that your hair is frizzy. Redken has a system shot: Redken Chemistry System Anti-Frizz shot that can help you normalize your pH hair level, while also repairing your hair of the damage caused from styling tools. This product must be used with Redken's Chemistry System 5.5 pHix pHase. The 5.5 pHix pHase pH sealant is for mechanically distressed hair.
Mechanically Distressed Hair: Hair that has been damaged from styling tools, not chemicals.
You may also notice when your hair is mechanically distressed that your hair is brittle, or even dry. Redken's Chemistry System Soft Shot was formulated with camelina, avocado oil, olive oil, and silk amino acids to provide strength and softness to your hair. The soft shot will target hair's texture to make it softer and add shine. The soft shot targets the most dry and damaged areas of your hair to deliver the lasting softness where it is needed the most. This product must be used with Redken's Chemistry System 5.5 pHix pHase.
Strong acids are not usually present in hair care products. Conditioner has a mildly acidic pH. These mild acids have the opposite effect on the alkalis, and they cause the cuticle to flatten. In turn, this makes your hair easier to comb, and it will look shinier.
So, now that we know that alkalis will open the cuticle, and acids will flatten it, we can decide on which types of products we want or do not want to use on our hair. Naturally, we'll not want to do anything that causes damage, so we'll avoid the extremes one way or another. That is not to say however, that coloring your hair on occasion is a bad thing. Just know that because of the pH differences, we'll not want to use them too often.
The key to keeping your hair healthy and manageable, is to use products that work to keep your hair as close to its normal pH and avoid long term use of anything that doesn't.
Stuff4Beauty is proud to announce the brand new review section! A lot of time and hard work has gone into our review section at Stuff4Beauty and we want you to be a part of our site. Register on Stuff4Beauty.com's review section and write a review. If your review meets the basic requirements Stuff4Beauty.com will send you free gift, just for writing a single review!
We have also made some significant changes to our Nioxin section. Feel free to look around and leave us feedback on the changes!
I hope everyone is enjoying their week!
Alayna