You asked:
My hair is shoulder length, and is fine. It is naturally fairly curly, but tends to lose the curl through the day without product due to the fineness of my hair. Looking for a product that will help maintain my natural curl without weighing it down. I use Aquage thickening spray gel which helps somewhat, but I'm looking to add more texture and/or hold.
You are currently using Aquage which is a great product line if you wish to stick with this brand I suggest trying Aquage Sea Salt Texturizing Spray it will not weigh your hair down like a gel or a cream but it will add texture and curl that will last all day.  If a light cream is what you are looking for try Aquage Curl Defining Cream it defines hair while leaving hair soft and touchable.  A mist or spray is recommended on fine hair to avoid overweighing the hair with product.  Either Aquage product will give a bouncy natural style.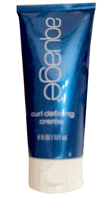 Do you have a beauty question you need an answer to? Do you know what products are suited for your hair?
We can help you too! Just fill out our product help form!
Product Help Form
Tip of the Day!!!
For perfectly plump lips use a white lip liner pencil and line the outside of your upper lip. Take a natural shade lip liner to the bottom lip and fill in with sheer gloss.