We Were Asked:
I have naturally curly, shoulder length hair that is colored I am experiencing very dry hair. I usually wash and go throw some mousse or gel in for curly hair and I'm good. I just had my hair colored to cover gray and now it's super dry and frizzy. I don't really want to have a lot of product in my hair all the time. I like my hair to be clean but it's like an afro if i don't put anything in it. And since I dyed my hair it takes so much product to tame it down. I want my hair to be soft and curly. What do you suggest?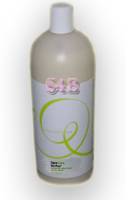 We Answered:
Thank you for contacting www.stuff4beauty.com!
It sounds like your hair cuticles are damaged. Your cuticles are what protect your hair and keep it healthy. When hair cuticles are damaged, your hair can feel dry or become frizzy.
By using a good PH balanced product, such as DevaCare you can restore nutrients to your hair! Also, DevaCare products have Cetyl Alcohol, which smoothes and softens the hair cuticles.
I would recommend the DevaCare No Poo Shampoo and the DevaCare One Condition. These products have vitamin enriching nutrients that will moisturize your hair. Also, when you finish washing your hair try scrunching your curls with your fingertips instead of using a heat source to dry your hair. This will also help in reducing frizz.
Hope this helps!
The Staff at Stuff4Beauty.com