How does a company in the hair care products field stay around as long as Loreal? Quality, quality, quality. You have to make the best products, technology will allow, and as the science improves, your product has to also. That being said Stuff4beauty would like to introduce Loreals new Texture Expert line of hair care products. Loreal is a leader in the hair care field, and has been for many years. With the Texture Expert line we fully expect them to stay in the lead for a long time to come!
To expand on this theory we looked at Loreals Texture Experts Fluid Intense Straightening Serum which uses scientific advances to collapse the cuticle of the hair shaft to control coarse wiry textures! Thats just one of the great new Loreal Texture Expert products you can purchase at Stuff4beauty.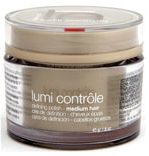 If you have medium hair Loreal Texture Expert Lumi Controle Defining Polish transforms medium hair into shiny styles with flexible control.
Loreal Texture Expert Gelee Riche Anti-Frizz Styling Gelee is an anti-frizz styling gelee for coarse hair. Gelee Riche can turn coarse unruly hair into a maze of styles. Gelee Riche Anti-Frizz Styling Gelee is used to help turn straight hair styles into curly.
We carry the full line including Loreal Texture Expert Densite Thickening Primer. This brand new Thickening Primer for fine hair, transforms fine limp hair into hair that looks thick and rich, with density. Texture Expert Densite Thickening Primer uses actual thickening polymers to build body.
If you style with heat then Loreal Texture Expert Smooth Velours Smoothing Lotion will give outstanding protection against mechanical and environmental factors while still transforming your hair into smooths styles with light control.

If you need to repel humidity Loreal Texture Expert Shine Perfection Anti-Frizz Shine Serum can do so while leaving your hair with a mirror like shine.
Loreal Texture Expert Spirale Extreme Curl Defining Creme can make even the hardest to curl hair into bouncing curls with control.
Loreal Texture Expert Mousse Volupte Magnifying Mousse with precise moisture allows for control and long-lasting volume magnification.
Loreal Texture Expert Architexture Matte Defining Paste gives you a strong, pliable hold yet still easy to work with.
Do you need to be able to lock in your style? Then Loreal Texture Expert Infinium 4 Extreme Hold Finishing Spray will be perfect for you . This Finishing spray will hold while giving you the ability to comb and recomb your hair without residue.
At Stuff4beauty we will gladly use our years of experience to help you to pick out the hair care products you need. Please feel free to click on and check out the full line of Texture Expert products from Loreal.
🙂 Stuff4Beauty