How To Manage Your Perm
When you have a perm you need to be careful that while taking care of it, you don't actually damage your hair. These steps will help you to make your perm last longer.
1. You should only get touch-ups as they are needed, and then only the most troublesome sections of your hair should be re-done. You should not get a new perm each time unless it is truly needed because perm solutions contain harmful chemicals that can permanently damage hair if they are uses too often and therefore they should be used sparingly.
2. You should not brush your hair or wash it for at least 2 days after you get it permed. In fact, you should wait for 3 full days if possible. The waiting process will ensure that the curls have time to fully develop and the perm does not fall out.
3. You should use hair products appropriate to the task at hand. Chosen shampoos should promote the maintenance of the curls, and conditioners should be the type that deeply moisturize. Following these steps should help the perm to stay in for a couple of months. When you have your hair permed, it is stripped of most of the natural oils and moisture. By using the correct products you can help your hair regain the moisture and nutrients it needs to be both health and strong.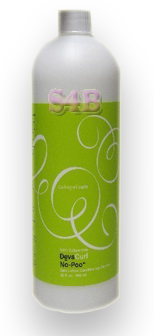 DevaConcepts offers great products for curly hair. If your hair is newly permed and is in need of nutrients and moisture, try the DevaCurl No-Poo. This is a conditioning shampoo that does not have a lather. It's a great product for giving your hair the extra moisture it needs to help your hair retain its shine.
Once your hair is post-perm and you feel that you need a more powerful cleansing agent, try the DevaCurl Low-Poo. This is also a great shampoo because it is gentle enough for daily use, yet it works to rid your scalp of build up. Other manufacturers also make shampoos for curly hair.
Redken's Fresh Curls Shampoo cleanses with an abundant, moisturizing lather. This shampoo contains proteins with fortify the hair while coconut oil provides smoothness and control for your curls.
If you're interested in conditioners, DevaConcepts has a wide variety for you to choose. DevaCurl's One Condition keeps your curls shiny and manageable with an ultra-creamy conditioner. This conditioner restores, hydrates, and eliminates product residue. While this is a great conditioner for keeping your curly hair looking stunningly healthy, you must remember that conditioners need washed out completely unless they are a leave-in conditioner. When you do not rinse out a conditioner completely, your curls can become weighed down!
If your hair needs that extra shot of moisture, DevaCurl B'Leave-In could be exactly what you need! B'Leave-In is infused with specially selected botanicals and enriched proteins. This product delivers maximum moisture, vitality, and brilliance to your precious curly locks!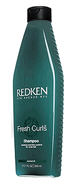 Another conditioner you could consider is Redken's Fresh Curl Conditioner. This is a great product that helps to detangle, moisturize, and smooth your curls without weighing them down!
4. Every morning, you should comb through the curls gently, using a pick rather than a comb or a brush. This prevents straightening the curls. The hair styling product that you choose should reduce frizzy and unmanageable curls. It will also help to keep your hair style strong.
There are hundreds of styling products you can use for curly hair. Aquage Curl Defining Creme is a creme that eliminates frizz, and defines your curls. However, this product leaves your hair feeling soft and supple! This is a lightweight styling aid that enhances curl definition without increasing hold or volume! This is ideal for curly hair to provide moist, emollient curl control with a crisp, non-sticky feel.
Back to Basics has a Curl Activating Gel that is formulated with a natural blend that is proven to activate, define, and separate curls. With moisturizing agents, this product helps to keep your hair smooth and shiny throughout the day. Jasmine provides hydrating conditioning to thirsty curls and helps draw curls together for defined locks.
Last, but not least DevaCurl has a finishing spray entitled: DevaCurl Set It Free Finishing Mist. This is an excellent product to provide reassurance to your curl hold. This product defines, de-frizzes and hydrates your precious locks for a lasting finish to your style!
For more information on Deva Hair Products, check out our Deva Hair Products Help!
5. Scrunch your hair on a daily basis. This will enhance your new style and will create soft and sultry waves.
6. If your hair becomes tangled, you'll want to use a wide toothed comb, or better yet a hair pick. Your hair will indeed become more tangled with all the curls, but if you use a brush, you'll end up brushing the perm right out of it.
7. You should experiment with different styles. You changed texture of your hair, but that does not mean that you have to give up your hair clips, headbands or ponytails! Accenting your style with accessories and different styles does nothing but give you a different style to accentuate your new curls!
As we said before, never get your hair permed often. Too much contact with the chemicals can and will permanently ruin your hair, and cause considerable damage.
Now that we have covered ways to take care of a healthy perm, let's jump into what you can do if you have received a bad perm.
It doesn't matter if you have put in your own perm, went to a hair stylist, or even had your friend do it for you. Perms can go bad at times and can end up being a headache. Lucky for you, there is a process you can try to get the perm out of your hair.
First, gather all the materials you will need in the, "Things You Will Need" list below.
Things You Will Need
1.
A good, solid conditioner for permed hair.
2.
Plastic wrap like saran wrap or plastic grocery type bags (these are best)!
3.
Canola oil.
4.
Large bath towels.
5.
A few hours of free time.
Now that you have gathered the materials needed, please carefully follow the provided instructions below:
1. Using a trash bag, hang your head over it and apply canola oil to thoroughly soak your hair.
2. Completely cover your hair with a plastic bag or some saran wrap.
3. Wrap the plastic with a large bath towel so that it retains the heat generated. (Wrap the towel tightly as some oil may drain!)
4. The oil must stay in your hair for at least an hour, and preferably two. While you wait you can watch a movie, read, or even browse Stuff4Beauty.com!
5. After your wait time is up, jump in the shower and rinse your hair thoroughly. It will take a while to get all of the oil out, so if you have to, use a gentle shampoo to help.
6. Next, lather up your hair thoroughly with conditioner and let it stay there for a couple of minutes. Rinse it out and do it again.
Important: This is not a one time process! You may have to complete the above steps for up to a week to get the perm to release!
I hope everyone has a fantastic week!
Alayna
Stuff4Beauty