Redken and your Curls!
We Were Asked:
I have layered hair that is shoulder length, curly, and it's thin. I need styling advice for my curls and some ideas for shampoo and conditioners that would be beneficial to my hair. Can you help?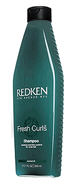 We Answered:
Redken Fresh Curls Shampoo is a great cleansing agent for curly hair. With an abundant, moisturizing lather this shampoo works to fortify your hair! Coconut oil provides smoothness and control for your curls. This gives your curls a gentle feel with a controlled look.
If you're looking for a new conditioner, Redken makes a conditioner that goes along side the Fresh Curls Shampoo. It is called Redken Fresh Curls Conditioner. This is a multi-purpose conditioner that does many things for both your curls and hair. While this conditioner is moisturizing the hair shaft it is also working to smooth, and detangle your curls. This is a great conditioner to use for keeping your hair hydrated and your curls bouncy, as this conditioner does not weigh down your hair!
Redken makes styling agents for curly hair also. I would recommend the Redken Curl Force 17 Texturizing Spray Gel. This is a spray gel that will help to lift your curls with a defined look. For a bit of texture, this spray gel is perfect. It adds a fresh texture, and a lustrous shine. It is recommended that you use this product on damp hair and style as you normally would. You can also use this product in mid-day for a little pick-me-up by applying a small amount to dry hair.
Do you have a beauty question you need an answer to? Do you know what products are suited for your hair?
We can help you too! 
Alayna
Stuff4Beauty