Is your hair lacking in the texture department? Do you want an extreme hold and amazing shine?
Well, stop looking, and start stocking up!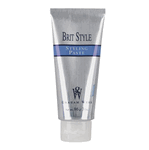 For a limited time, stuff4beauty has Graham Webb Brit Style Styling Paste on sale! Only 19.99! You won't find a lower price!
It's perfect for any hair type and any style. Don't miss out, it won't be on sale for long!
Don't forget to check out our Discontinued Section, you never know, you may find that long lost product you've been searching for! If we don't have it, and you want it, Request it!
Sincerely,
The Caring Staff at Stuff4beauty!