Understanding Hair Texture and How to Best Work With It
You might be surprised to learn that just about every human being has 100,000 strands of hair on their heads. However, because of differences in texture, some people appear to have less hair, and some people appear to have a whole lot more.
What is texture?
Texture is the circumference of each individual strand of hair. If you have fine hair then your hair has a small circumference and you appear to have less hair on your head. Conversely, if you have coarse hair then your hair has a larger circumference and this bulk makes you appear to have a lot more hair than someone with finer hair texture.
Ultimately, the texture of your hair is simply a matter of genetics; if your parents have coarse hair, you will also, if they have finer hair, you will too. However, thankfully the hair care industry has developed ways you can enhance and modify your hair's natural texture to achieve the popular styling choices you desire.
Fine Textured Hair
Fine textured hair is generally straight and can appear limp because of residues from hair care products. It can easily be processed by perming and coloring. However, it is important to not over-process fine hair because it can be easily damaged.
There are many things you can do to enhance the texture of fine hair. Some of them are:
Use a Clarifying Shampoo – To reduce residues and oils you should use a clarifying shampoo on fine hair. This will strip off the residue left by shampoos, conditioners, and styling products. Kenra manufactures a shampoo called: Kenra Clarifying Shampoo. Kenra's Clarifying Shampoo is ideal for removing mineral deposits and chemical build-up from hair styling products. However, while this shampoo cleanses your hair, it also adds shine and body.
Use Mousse While Wet – After you shampoo with a clarifying shampoo, adding mousse to your hair (when it is wet) can give it added texture. Start at the roots and massage the mousse into your hair and then let it air dry, or dry it with a hairdryer on low heat. Not everyone wants to use the same hold factor in a mousse. There is a very wide variety of mousses to choose from, however I have three different options to look at. First is the Alterna Life Volumizing Spray Mousse. This is an aerosol mousse that has a light to medium hold. The Alterna Life Mousse was manufactured with fine and thin hair in mind. The exclusive LIFE blend of extracts provides weightless thickening agents that define, maintain, and preserve volume all day long. This product also contains anti humectants that effectively repel humidity, leaving your hair with a smooth texture and a radiant shine.
If you need more of a hold, I would go with a medium hold mousse. An example of this is the Biosilk Silk Mousse. This is an alcohol free mousse that is rich, creamy, and infused with concentrated silk and botanical extracts which add volume and shine.
If you require a strong holding mousse, I would recommend the Brocato Volumizing Foam. This product is a strong holding mousse that creates visual texture and stunning shine. This mousse allows your hair style to be firm, yet still moveable. This is an exceptional volumizing foam with a powerful hold that is great for all hair types!
Color Your Fine Hair – Another good way to add texture to fine hair is to color it. Coloring your hair adds texture to it by enlarging the hair shaft. However, make sure to not over-process your fine hair with color. Stuff4Beauty has an array of hair color lines. Go on, take a look and see what you like!
Stuff4Beauty Hair Color
Coarse Textured Hair
Coarse, textured hair is generally thicker and harder to process. Coarse hair resists perming, straightening, and coloring.
There are a few things you can do to work with the texture of coarse hair. Some of them are:
Add Moisture – Coarse hair needs added moisture to control frizz and curl. By using a good conditioner you can insure you course hair will lay flatter and be shinier. Some manufacturers offer leave in treatments, rinse-out treatments, or hydrating conditioners that will help to incorporate moisture back into your hair. Bonacure makes a rinse-out treatment entitled Bonacure Moisture Treatment. This is a great product for naturally dry, or naturally coarse hair. This product reconstructs the moisture in your hair shaft from the inside out, which balances the moisture in your hair.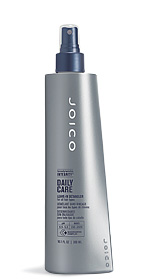 Joico makes a leave-in detangler that you can use on a daily basis which is called Joico Daily Leave-in Detangler. This is a conditioning agent that helps to condition, detangle, and make hair easier to manage. This product will also help you restore the moisture balance in your hair.
People rave about Pureology products and what they do for their hair, and that is why I would recommend the Pureology Hydrating Conditioner. The hydrating conditioner works from the inside out to keep your hair color fresh and your hair detangled, all with renewed body and amazing shine! Hair is left conditioned, color protected, and shiny!
Air Dry – One of the most important things you can do for coarse hair is to let it air dry. Wash it, condition it, and then let it dry on its own. By not handling your hair too much while it is drying, it will not frizz.
Whether you have fine hair, coarse hair, or something in between, you can work with it by learning about texture and which products to use and which to avoid. By using products that are beneficial for your hair texture, you can better amplify the hair that you were given.
Important! Stuff4Beauty is going to offer a 4th of July Special starting Thursday night! It's a good one everyone, keep your eyes open!
Have an absolutely amazing Fourth of July America!
Alayna
Stuff4Beauty