Bonacure products are easily dated back to 2002, but as the years pass, Schwarzkopf continues to improve the Bonacure product line.The Bonacure line is the first in hair care to provide personal hairtherapy to restore hair from the inside out. Bonacure works to diagnose, repair, and ultimately fix hair. Hair is comprised with the same needs as skin. To repair hair, Bonacure works to restore your hair with amino acids for in-depth and long-term rejuvenation. Recently, they have released two new products into the world of beauty!

Bonacure has released the Schwarzkopf BC Bonacure Color Save Sulfate-Free Shampoo. You may be wondering, what's the difference between the Schwarzkopf Bonacure Color Save Shampoo, and the Schwarzkopf Bonacure Color Save Sulfate-Free shampoo. Sulfate-free, is the difference. But what does Sulfate-Free mean? Sulfates are used in shampoo and various other products to produce foam and clean. In hair products, sulfate-free is less damaging to hair, especially color-treated hair. The Schwarzkopf Bonacure Color Save Sulfate-Free Shampoo is a great product to help keep color treated hair last longer. This product gently cleanses hair while protecting your hair against fading color throughout the shampoo process.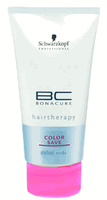 What if a shampoo isn't enough? What if you need more help keeping your color treated hair looking great? Well, Bonacure has released another product just for that purpose! Bonacure Color Save Colored Ends is a product made to restore your hair from the inside out. This product uses amino acids and UV filters to protect the color and prevent the ends of your hair from breaking.
Still curious about Sulfates?
Check out our informational blog on Sulfate and Sulfate-Free Products!
Want to know what other people think about stuff4beauty.com?
Read/Sign our Guestbook today!