Choosing The Right Hairbrush
from Stuff4Beauty.com!
Hair is most attractive when it is kept clean and shiny. Even more so, it is appealing when it is styled to blend with the shape and size of the individuals face and head. In the United States, a large portion of beauty dollars are spent for hair styling and care. The simplest hair styles, however, can be cared for very economically at home.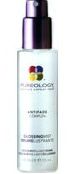 When you see someone walking down a street with glowing, shiny hair you think that their hair is healthy. While a hair brush is key in the way your hair looks, a shampoo and conditioner will make or break the health of your hair. If you want a hair-shine boost, you can always try a spritz of Pureology's Glossing Mist! This mist is an exquisite ultra-light shine spray. However, keep in mind that educating yourself on proper use of conditioner and shampoo will further the health of your hair. The hair receives nutrients at the root from blood. Good health habits and circulation will assist blood in delivering all the nutrients your hair will ever require. When you massage the scalp with your fingertips, it promotes good blood flow to the roots of your hair.
Brushing your hair also stimulates circulation in your scalp. It helps to spread oil along the length of each strand. By balancing the amount of oil from your scalp throughout your hair, you can reduce build-up which can cause your hair to look oily. Normal hair will benefit from a daily brushing; however, oily hair becomes oilier when it is brushed too frequently. So be careful and find your happy medium in brushing your hair. A good shampoo that will help circulation is Brocato's Peppermint Scrub Purifying Shampoo. Brocato's Peppermint Shampoo will help to reduce residue and chemical deposits, while also improving upon the circulation in your scalp. This shampoo also works to rid your hair of excessive oil build-up!

Were you aware that there is a particular hair brush for every type of hair and style that you wish to attain? Well, there is! Hopefully, with the information provided, you will be able to choose the adequate brush for your hair.
If you have medium length hair that is naturally straight and smooth, a cushion type hairbrush is best. The brush will reinforce the hairs sleekness.
Short to medium length hair typically looks best when a tunnel vent brush is used, this brush will help to create substance and volume. The bristles are broadly spaced, which help to loosen tangles in your hair. Another way to infuse volume into your hair is to use product. Product can help make the brushing process more successful. For instance, a volumizing shampoo such as Aquage's Volumizing Shampoo would be beneficial. This shampoo is sulfate-free and works to gently add volume to fine, limp hair.

For anyone with long hair who wants to create smooth, straight styles should use a paddle brush. It does not add volume, so it isn't advisable for styling when your hair is cut in layers. Scruples offers a Smooth Out Shampoo and conditioner that help to smooth out your hair and reduce frizz. If you have straight hair and want to add waves/curls, you should use a round brush with a blow dryer. This does a great job of coiling the hair like rollers. This also enhances the movement of your hair.
You're in luck! Stuff4Beauty is offering a close out deal on a paddle brush at this exact moment!
Paddle Brush
Checking with your hairdresser in detail about your particular hairstyle, will help you to determine which type of brush will fit your particular need, but for basic hair care, the information in this article will suit you well.
A hairbrush designed to fit your hairstyle, along with other hair care products, can work together to give you a shiny, beautiful head of hair when used properly. This adds to the overall beauty, and will make you feel absolutely wonderful about yourself!

>>Newly improved, alphabetized Site Map!
An easy way to find the products you need!< <
I hope everyone is having a great week.
Leave us your feedback!
Alayna
Stuff4beauty.com