New Sebastian Products!
In 1970, Geri Cusenza, a salon-starlet put a new spin on hair. Geri Cusenza amped-up fashion when she created the crimping iron. Elecrifying the scene, this was only the beginning. Taking hair fashion by storm, Geri Cusenza was the start of a style unique, fierce, and feverishly Sebastian.
Sebastian Professional has been around nearly 40 years. With countless shampoos, conditioners, and styling agents, Sebastian has always kept your hair as their priority.
Now, Sebastian Professional brings to you the introduction of a new product line, replacing almost everything they've had on the market previously. You have no need to fret, however, because Stuff4Beauty specializes in bringing you discontinued hair products.
New Shampoos/Conditioners
Sebastian Drench Shampoo is for hair in need of serious moisture! This is a shampoo for dehydrated hair in need of refueling! Offering moisture to hair that is quenched for thirst is the aim of Sebastian Drench Shampoo. This product is safe for your color treated hair as well!
Sebastian Drench Conditioner offers nourishment to malnourished hair. This is a product that is going to be known for adding moisture back into over-processed, dry, and damaged hair. The Sebastian Drench Conditioner is best for fine, chemically treated hair. This product is also safe for your color-treated hair!

Sebastian Light Shampoo is a shampoo that is safe for color-treated hair and can be used daily. This is a product that returns hair to a normal, healthy state with gentle cleansing agents.
Sebastian Light Conditioner is a pro-shine, weightless conditioner for adding shine to even the dullest looking hair. Color-treated hair safe!
Sebastian Penetraitt Shampoo is a reconstructing, strengthening, and repairing shampoo. With essential cleansing agents needed to strengthen any look, Sebastian's Penetraitt Shampoo is there with a color-treated safe formula!
Sebastian Penetraitt Conditioner is the partner to Sebastian Penetraitt Shampoo. This conditioner helps remove unnecessary stress on hair for a silky soft, incredibly strong style. This product is safe for colored hair and is best for hair that is in need of repair from chemical processes.
New Treatments

Sebastian Penetraitt Masque is a treatment masque that works to repair hair and strengthen the hair follicle. This product is for hair that has been weakened by chemical treatments and damage from heated styling tools. It is best to use this product when your hair is stressed, dull, and chemically damaged.
Sebastian Potion 9 has also been reformulated and repackaged in this new line of Sebastian products! The Sebastian Potion 9 is a wearable, styling treatment with active oil botanicals that help to restore hair to its natural condition! A protective agent cocktail enhances the manageability for hair styling.
Have you ever thought that Sebastian Potion 9 may be too much for your hair? Need something lighter? Sebastian Potion 9 Lite is it! This new Potion 9 Lite formula is a lightweight, wearable treatment that acts a styler! Active conditioners help repair malnourished hair for a noticeable shine. A protective agent cocktail also helps to enhance the manageability of hair for easy styling and moveable hair.
Sebastian Taming Elixir is designed for you to help minimize frizz, fly-away hair, and to smooth down the hair cuticle. With avocado oil, this product will help tame your hair, leaving it feeling touchable and soft. For soft, defined style use heated styling tools with this product!
New Styling Agents
Sebastian Craft Clay is infused with earth minerals for defined separation and a restyled texture appearance. You can work this product through dry hair to quickly change texture and shape, or massage into the roots for a rougher, more tousled looking style. This product is excellent for short to medium length hair!
Sebastian Gel Forte offers sparkling style and shimmer for strong held shape without a stiff, or sticky feel! This is an easily rinsed out formula that can be used on all hair types. Use this product with blow-drying for flexible hair style, or apply this product to dry hair for stronger hold and more defined separation.
Sebastian Liquid Steel offers the maximum amount of support and hold for your hair. This steel styler gives untouchable results! Do not use this product with heated styling tools, including a blow dryer!
Sebastian Molding Mud is a fiber-infused mud tool that is used for hair styling. For uncombined-looking texture and defined locks of hair, Sebastian Molding Mud is for you! Use this product with heated styling tools for moist, head-hugging styles. You can use this product in damp hair for defined, randomized texture. This product is great for thick, layered hair!
Sebastian Re-Shaper offers a strong hold for hair shaping. This product bends hair movement into shape with a long-lasting hold and humidity protection!
Sebastian Shaper Fierce offers the most reliable hold yet! For hair that holds up all day and night long, Sebastian Shaper Fierce is what you'll want to rely on! Sebastian Fierce has a firm, dry-hold for any fashionable style.
Sebastian Shaper Zero Gravity tells it all in the name. This is a lightweight, air-like hold hair spray that is dry and brushable.
Sebastian Stylixir is a non-greasy formula that glides easily into hair for sleek movement and head-hugging waves for any style. Use this product on damp hair for moistened control or blow-dry for a natural hold.
Sebastian Thickefy Foam is a liquid-to-foam formula for weightless thickening and conditioning. This product also helps to hold fly-away and fine hair in place. It's recommended to use this product on damp hair.
Sebastian Whipped Creme is an ultra-light whipped mousse that is packed full of nutritious proteins. This product lifts and nourishes curls/waves for the perfect, airy bounce throughout the day. Distribute this product into damp/dry hair fro sleek looking waves.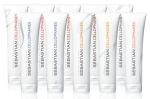 Sebastian Professional Cellophanes
Sebastian Professional Cellophanes provide your hair with a boost of color that only cellophanes could give. They are amonia-free colorizing gloss treatments for every type of hair. These products give illuminating effects to hair with color-depositing, botanical-rich infusers. Vibrant color lasts for 4-6 weeks.
Enjoy your week everyone!
Alayna
Stuff4Beauty.com