Protecting Hair from Salt Deposits!
We Were Asked:
I have very short, thick hair, worn spiky; colored and highlighted regularly. I use Aquage products (shampoo and conditioners for color treated hair) as well as their styling products. Am taking a month long trip to Southern France and will be exposing my hair to sun and salt water on a daily basis. Please recommend products that will be good for my hair, especially in maintaining the color. I usually get it cut and colored one a month (I have very short hair and it grows FAST!) I will be swimming in a salt water pool and last time I was there, my color faded rapidly, even though I used products for color treated hair. Could you also recommend some tips to keep the color looking its' best? Thank you!
We Answered:
Have a great time in France! There are many things you can do to prevent color fading. The best thing to keep in mind is that your hair absorbs water. Therefor, if you jump head first into the salted pool, your hair is going to absorb the chemicals in the water. If you wet your hair first, your hair will act as a sponge, absorbing the water. That way when you get into the water, your hair will have nothing left to absorb.
If you can find a good, leave-in conditioner such as Pureology's ColourMax, it will be beneficial to your hair. It's great for color treated hair, and customers rave about how much they love Pureology products. This product makes hair easier to comb through. This product will also protect your hair from the sun.
Pureology's ColourMax Leave-In Conditioner
Another great measure to take, in order to protect your color treated hair, is to find a good color-treated conditioner. (I'm sure that since you use aquage products, you're using a color-treated conditioner). After you wet your hair, but before you jump into the salt water, try running a nickel size amount (since your hair is short) into your hair, coating it. This will give your hair a protective layer so that the salt is less damaging to your hair.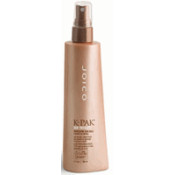 If you are looking for a protective spray for sun exposure, Joico makes a product called: Joico K-Pak Sun Therapy Protective Sun Milk. This is a product that is lightweight and color safe. It's a leave-in spray that protects your hair from sun damage. You can use this product on wet, or dry hair during long periods of sun exposure. When using the Protective Sun Milk, your hair will be left hydrated, conditioned, and protected.
Joico K-Pak Sun Therapy Protective Sun Milk

If you need a good shampoo to take with you, I'd recommend the Bonacure Sun Shampoo. This is a great shampoo to add moisture and gently cleanse your hair. This is a product that will regenerate sun-soaked hair so it is left healthy and undamaged.
Bonacure Sun Shampoo
Another helpful tip for swimming in water containing salt is to remember hair care after you get out of the water. Once you are finished swimming, a rinse, shampoo, and condition can all be useful. While it is not necessary to do all of the above, at least rinsing your hair when you get out of the water will help knock off unhealthy deposits in your hair.
Stuff4Beauty has a special for everyone this Memorial Day weekend! An easy way to save, BIG! No coupon or coupon code is needed!
Any order over $75, shipping to a physical address to any of the USA 48 states this weekend receive an automatic $5 off your entire order and still get free shipping!
Be sure to stock up on all of your favorite products and cash in on this great deal!
This offer begins from noon of 05/23/08 till midnight of 05/26/08!
Have a wonderful weekend and a great Memorial Day everyone!
Alayna
Stuff4Beauty