It's a 10 is a new product line that is sweeping the nation because of its unique blend of ten ingredients. The goal of mixing all ten oils and essentials is restoration and resilience. It's a 10 is made to provide your hair with vitamins, proteins, and anything required to make hair healthy. The theory behind It's a 10 is that healthy hair is beautiful hair. It looks good and feels great. It's a 10 Miracle Moisture Shampoo has a combination of Vitamin C, Aloe Vera, Rooibos Tea, Moringa Extract, Comfrey, Tahitian Noni Oil, Pomegranate, Ginger, Acai Extract, and Sunflower Seed Extract. These nutrients combine and provide hair with an extra boost of life.

It's a 10 Miracle Mask is used to further help the condition of your hair. It actually benefits your hair in ten different ways instantly:
1. Detangles
2. Nourishes
3. De Frizzes
4. Softens
5. Smooths
6. Restores Moisture Balance
7. Instantly Restores Elasticity
8. Improves Color Vibrancy
9. Restores Moisture Balance
10. Enhances Natural Body
Use after shampooing leave on for 2-3 minutes then rinse.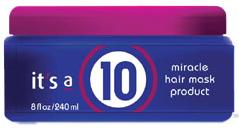 Enjoy a Fantastic Friday!
Ashley
Stuff4Beauty.com
Tip of the Day!!!
When searching for the right shade of makeup first you must decide whether you have warm or cool undertones. Put a silver and gold piece of fabric up to your face which ever compliments you the most is your correct undertone.